A simple, powerful and professional website builder!

---
Custom Web Design
E-commerce Solutions
Video & Audio Players
Doc, PDF's and Excel
Maps

Layout and Content

Multiple Pages

Add a Blog

Contact Forms
Surveys


Photos, Galleries and Slideshows
SEO (Search Engine Optimization)

Site Password Protection
SWF Flash Files
..and more!
---
---
Easily and quickly "drag and drop" images, text, contact forms and more into your website or blog.



Seriously it's the easiest you've ever experienced.

Simply 'drag' any number of elements to the page such as a Title and Paragraph Element, Photos, Galleries and Slideshows along with Video & Audio Players, Maps, Youtube Video Elements, Contact Forms to name a few. You can even create a survey.

---
Powerful Hosting

The editor isn't just the easiest website creation service – it's also a rock solid web host.
Every website is hosted on a redundant, cloud based hosting infrastructure. Best of all, this level of hosting is included when your website is built using the Easy Editor.

Choose from 100+ Free Fully Designed Themes































































































































Page Layouts

Themes include 4 Standard Page Types allowing you to have a different look on each page:

---
Easily change the layout of a page.
With multiple page types it's no longer necessary to use the same layout on every page of your website.
A Landing Page

Tall Header Page

Short Header Page

No Header
---
Add a Slideshow as the Page's Header



The 'ImagePerfect' Image Editor

ImagePerfect is a feature that really sets the editor apart from the crowd. ImagePerfect is a fabulous image editing tool that makes it a breeze to crop, resize, fade, and layer your photos. With one click, you can add stunning photo effects and stylish border designs.

ImagePerfect is built directly into the editor. We think image editing should be a seamless part of the website building experience. Why should you be directed to a 3rd party service or need to load Photoshop to make basic edits? Well, now you don't have to!


Website Search

Include a Search Box at the top of every page, or add a search element to a page or blog sidebar.

| | | |
| --- | --- | --- |
| | Add an option to Search to the website, enabling your visitors to easily locate content. | |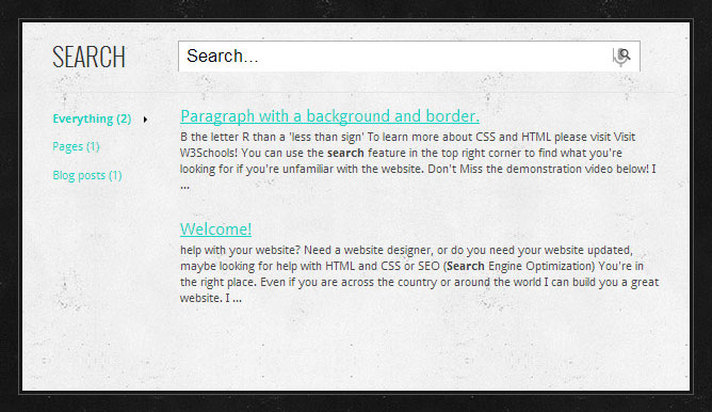 Get found in Search Engines


If people can't find your site, they can't visit your site. Easily create and update your Search Engine Optimization (SEO) without the hassle. Simply type in your keywords and description to make your mark with Google, Yahoo and Bing to bring more people to your site.

---
Button Element

The button element allows you to create a call-to-action area with a link to an alternate page, a link to a page on another site or link to a file. Buttons are designed to match the look & feel the theme your website is using.

Add "Quotes"

Add a "Quote" element. Then type your quote. It's that easy!
---
Blogging

The editor's Blogging Engine uses the same drag & drop interface that makes this Easy Editor amazing. Now you can Blog with ease!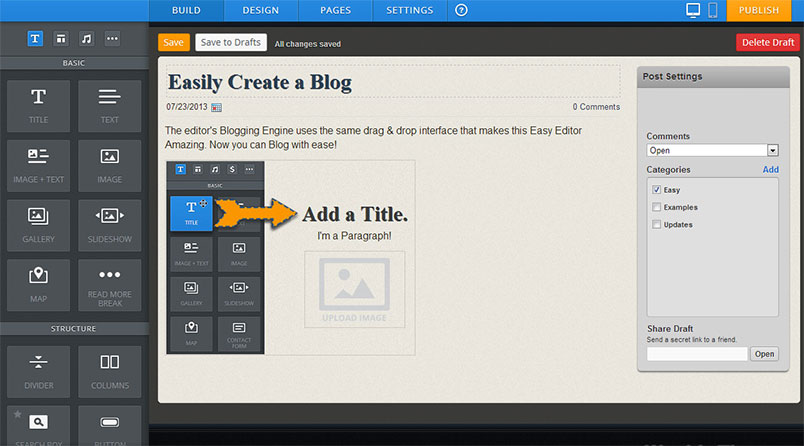 There is also a Like and Tweet button built right in to every published post.

Get Support from real people!

Get the help you deserve from your website hosting company.
Contact Support
with your questions, and be assured you will receive a response with the solution you were looking for.
---
What else is included?
---
With the Easy Editor you can upload files up to 250 MB (1GB for video).
When we host your site all Features are included.
Fully Customizable Designs, HTML/CSS editing.
---
★ ★★ Domain Registration and Email are separate services. ★★★

---